Insulating glass processing line with argon gas filling
Insulated Double Glazed Glass Production Line series
Sizes :
2000*2500mm
2500* 3500mm
3000* 4000mm
Functions :
double glazing glass
triple glazing glass
four sides step glazing glass
Special technology of IG Line :
Making two pieces of IG units in once time
Filling argon gas online
Shaped glazing glass
Low-e film glazing glass
Air floating insulating glass line
Main Features of IG Line:
• Adopt SIEMENS control system, keep stable performance
• PLC control system, touch screen interface
• Applicable to produce stepped IG, triple IG and shaped IG
• Using servo to control system, modular function, superposition function
• Automatically adjust the depth of glue with digital display
• Min & Max glass sizes can be optional
• Two pieces of IGU can be made and filled with argon gas in one time (Optional)
• Automatic Vertical Insulating Glass Processing Line has 7 sections:
01 transfer section;
02 washing section;
03 discharge section;
04 inspection and installation section;
05 transfer section;
06 pressing and filling section;
07 discharge section.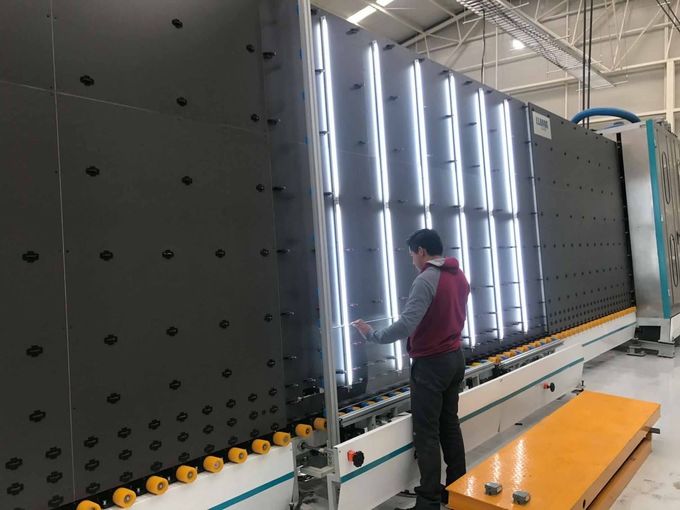 Washing section features:
• Using 3 pairs of soft brushes with 0.1mm soft hair, can wash low-e glass
• The air knife can automatically adjust the width of the air knife according to the thickness
• New air knife uses aluminum profile (Duckbill Air Knife), the size of the air outlet is adjusted by the aluminum profile duck beak. This can reduce the number of adjusting screws, ensure that each screw is not loose, and avoid the resonance of the air knife.
• Stainless steel material
• The operation box with washing speed display, can accurately display washing speed (8-10m)
• European silencer system
• Water tank automatic temperature control, water replenishing system
• Pre-washing (Optional)
Pressing section features:
• Pressing board with adjustable structure to guarantee long-lasting service life
• Adopts conveyor belt to transfer glass, uses servo motor to press glass
• Ultra-long (2500mm*3500mm) insulating glass can be compressed twice
• The pressing plate can be opened for easy maintenance
Filling argon gas automatically
• Automatically filling argon gas inside the pressing plate with precise gas concentration
• When filling shaped IG, inflatable front side of the rectangular size required 450mm (length), 280mm (high)
• Fast reacting sensor for permanent control of gas filling process
• Automatically set gas data and display data on the screen
• No need to drill holes in spacer frame
• Standard gas is Argon gas
Technical data :
| | |
| --- | --- |
| Max. glass size | 2500mm*3500mm |
| Max glass size for filling gas | 2500mm*3200mm |
| Min. glass size | 280mm*450mm |
| Glass thickness | 3-15mm |
| Insulating glass thickness | 50mm |
| Glass washing speed | 2-10m/min |
| Glass conveyor speed | 45m/min |
| Washing brushes | 3 pairs of soft brushes with 0.1mm hair |
| Water supply | Water consumption:0.5t/h conductivity:40μs/cm |
| Air supply | Flow: 0.8m/min |
| Air pressure | ≥0.8MPa |
| Total power | 3P 380V 50HZ 40KW |
| Dimension | 23500*3500*3700mm |
| Weight | 6500kg |
Other Insulating Glass Equipment of our company:
1.Insulating Glass Production Line
2.Spacer Bending Machine
3.Desiccant Filling Machine
4.Butyl Extruder Machine
5.Insulating Glass Sealing Robot
6.Glass Washing Machine
About 20 products are widely used in customized insulating glass industry, windows and doors, building curtain wall, industrial aluminum alloy, high-speed rail, elevator and advertising industry.